"Innovator" or "Laggard"?
"Innovator" or "Laggard"?
How Small and Medium Sized Businesses Use Digital Technology

Background
Small and medium sized businesses, i.e. those characterised as having 500 or less employees, represent 99.7% of all public and private US businesses. In fact, such businesses also make up almost 50% of total private sector employment in the United States and form a significant backbone of the US economy, impacting factors such as economic growth, employment and innovation. 
The failure rates of these businesses are significant; around half of all businesses no longer exist after five years and only one third make it past their tenth anniversary. Data from the Small Business Administration (SBA) suggests that these statistics have remained remarkably consistent through the years. But why do such businesses fail?
The SBA attributes this failure to lack of profits or financial funding, including under-capitalization at the outset. The SBA suggests that not only do business owners frequently underestimate how much money will be needed to fund operations, they simultaneously overestimate how quickly their products and services will catch on in the marketplace.
A prominent study conducted by the financial services company, U.S. Bank, found that as many as 82% of start-ups and small businesses fail due to poor cash-flow management. Jared Hecht, Co-founder and CEO of Fundera, suggests that some of the most common cash flow problems include overestimation of future sales volumes, failure to chase unpaid invoices and the lack of a cash flow budget.
The digital opportunity 
Digital technology is defined as electronic tools, systems, devices and resources that generate, store or process data. These includes social media, online games and applications, multimedia, productivity applications, cloud computing, interoperable systems and mobile devices.
While digital technology may not be a core function for many small and medium sized businesses,
but is often acknowledged to be a major and inevitable business enabler that has the potential to add serious value by automating key operations such as cash flow management, budgeting and invoicing. Of course, automation is not the only benefit. Such technology can also help store, manage, and interrogate data, turning it into valuable information that supports day-to-day operations and long terms decision-making. It can simulate risk, make trend-based predictions of sales volumes and allow a business to better monitor, understand and improve performance.
Relieving the burden of operational effort can allow the entrepreneur to focus on the business's core offering and respond to changes in the business and consumer landscape in an agile manner.
Technology per se cannot be viewed as a panacea, since it's effectiveness is dependent on the quality of the business processes it is designed to support. Yet this topic remains important and while plenty is written about success and failure rates of small and medium sized businesses, comparatively little is known about the role that digital technology plays in that journey. It's important to note however, that many businesses are simply "lifestyle" businesses, where the entrepreneur has no desire to scale. In this instance, technology may not ever play a significant role for the business.
This paper presents a portrait of how some small and medium sized businesses use technology.
Our findings are based on a sample of 20 small and medium sized businesses that sell both products and services. The types of businesses span from gyms to gun ranges and each business has aspirations to scale and grow. We have found that the level of sophistication in the use of digital tools varies significantly, irrespective of the number of years the business has been in operation. This variation can be described in terms of four digital engagement levels, ranging from "None- Limited" (level 1) to "Optimised" (level 4).
In their totality, these four levels reflect the variation of digital activity across the spectrum of the small and medium sized business community. The table below, describes each level of digital transformation against a series of dimensions.
The Dimensions of Each Level of Digital Transformation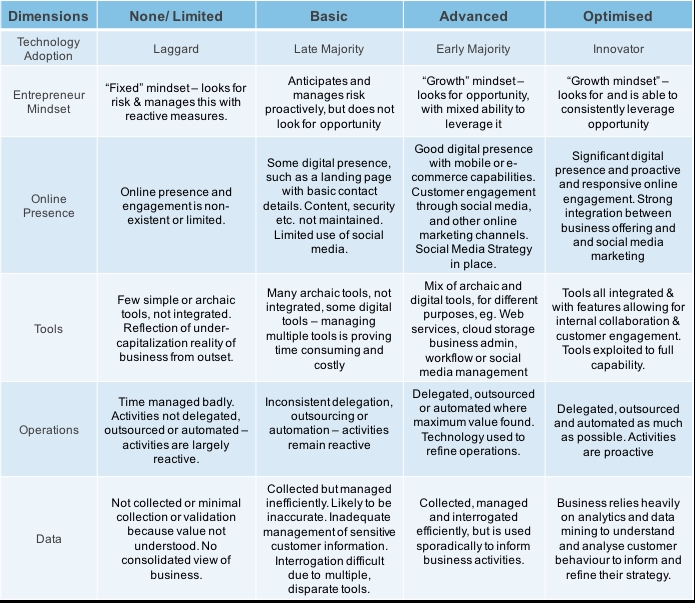 What does this mean?
The use of technology to underpin and even drive business is inevitable. However, integrating an increasing number of applications and technologies is complicated and time-consuming for most small and medium sized businesses.
Having the right amount of digital technology, such that is provides value and justifies investment is a constant challenge. From our experience, most small and medium sized businesses operations such as invoicing, booking, finance, marketing, scheduling etc. are handled by disparate systems, making it increasingly difficult to have the range and depth of expertise needed to select, maintain and optimize the right IT solutions. Ultimately, this means that the effort required for tool management is often disproportionate to the value generated for the business.
Maintaining multiple technologies or using clunky middleware is resource intensive. The lack of integration capability is reflected in both operational inefficiency and inaccurate interpretations of business performance. This may result in a complete loss of financial control.
Conclusion
As more and more applications are being used and as the business begins to offer an increasing number of services or products, integration with existing systems and infrastructure becomes evermore complicated. The challenge is ensuring that applications work together, or at the very least, don't conflict, to ensure streamlined operations.
In striving for the "Optimized" level of digital sophistication, businesses can and should avoid the struggles associated with the intermediate stages as far as possible, by finding a software platform that supports their business as it matures from the outset. While some of the functionality of a single business management software may not be useful from the outset, the functionality will grow or scale based on business need.
Our experience suggests that businesses should pass through these stages as quickly as possible so that key operations are seamlessly integrated and automated, allowing the business to focus on its core offerings. More often than not, businesses will quickly find that the technological environment in which they are forced to operate is changing exponentially; they are out-competed and fail to even make the second year of business. It is highly unlikely that a successful business with aspirations to scale retains the characteristics of "laggard" in its fifth year.
Fundamentally, digital optimisation is about using the right technological solutions in an integrated way, to suit the needs of a business as it matures. This means that technology is not used for its own sake, but for the specific problems it is designed to address.
About Bizzflo
Bizzflo is a cost-effective business management software for small and medium sized businesses, allowing them to automate and streamline their marketing and operations under a single, integrated solution
About Author
Nisha Harish
Nisha Harish is an Independent Management Consultant and holds an MSc in Information Systems from the London School of Economics. Nisha has consulted for the likes of EY, KPMG, while developing her experience through a number of fortune 100 companies that span sectors such as Telecomms, Media, Financial Services and Utilities. Based between London and Chicago, Nisha now works with small and medium sized businesses in the tech start up space.